LOOSEN UP YOUR STYLE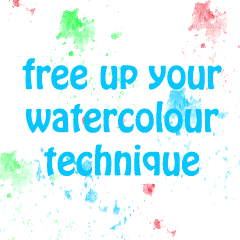 perfect for beginners and any one wanting to learn to paint free style poppies!
AN OLDIE BUT A GOODIE...MY FIRST EVER E-COURSE!

Now Available as a Self-Study, You'll have access to the class forever!
Want to learn to use watercolour? Stuck in a watercolour rut? painting tightly with no free expression? want to get more out of your watercolours?
then this is the workshop for you!
You will be taken on a journey that will get you painting freely and spontaneously, creating luscious paintings you will be proud of.
TESTIMONIALS
"Hey Mitsi, thank you once again for amazing watercolor vids on the Anemone flower. I am always mesmerized when I watch you paint. I so wish I could be as free in my use of color and brush work. However, I know this is all a work in progress for me and I practice a little everyday. I am so glad you have so freely and enthusiastically shared your style. Just wonderful. So REFRESHING!!!"- Adrian Kronberg
"am loving Mitsi's work. I am so inspired to play and splash around. I am a very beginning watercolorist and am thrilled that I happened upon Mitsi and her playful way to paint. I could have gotten stuck in rules forever - yuck. Instead I have "permission" to play and explore. Yeehaw!"-Barb Miller
"Hi MichelleCongratulations on a superb course to loosen up. My eyes have been opened to an exciting new way (to me) of using watercolours. Loving every minute. Thank you so much."-Elizabeth Moris

here is the introduction video from the class
and here is a pdf for you to sample
loosen up lesson 1.pdf
FOUR AND A HALF HOURS OF INSTRUCTIONAL VIDEO
lesson 1: 1PDF VIDEOs,
the beging! forget what you know already and learn something new.
lesson 2: 1PDF VIDEOs,
the splash, we will splash around and create some interesting things.
Lesson 3: 1PDF VIDEOS,
tips and techniques
lesson4: 1PDF, VIDEOs,
putting it into practice, a final painting of poppies